[MAY 2019] The Latest Google Marketing Updates – News You Need to Know
Google has been busy lately, releasing an algorithm update, improving existing ad formats, creating new ones and enhancing tools that help advertisers provide a positive user experience. On top of all that, Google Marketing Live kicks off later this month and the company plans to introduce more than 10 new digital marketing products.
To help you keep track of all that activity, here's a rundown of a few notable Google marketing updates.
March 2019 Core Update
As it does several times a year, Google released a broad core algorithm update in March. If you've noticed a change in your brand's organic website rankings recently, this may be the cause. Every Google algorithm update causes drops or gains for some sites. Google contends there is no "fix" for pages that take a hit; instead, the key is to provide relevant content consistently.
Each day, Google usually releases one or more changes designed to improve our results. Some are focused around specific improvements. Some are broad changes. Last week, we released a broad core algorithm update. We do these routinely several times per year….

— Google SearchLiaison (@searchliaison) March 12, 2018
Check out our full blog post on the update for a more detailed look at the impact of the change and actionable insights to optimize your website.
Say more in call-only ads
Call-only ads are designed to encourage potential customers to connect with your business by placing a call simply by clicking your ad. To help drive more high-quality calls and deliver a better customer experience, Google rolled out additional lines of text.
Advertisers now have the option of adding two 30-character headlines, instead of a single 25-character headline. Google also increased the available space for description lines from 80 characters to 90. To make more space in the headline, Google moved the business name to the beginning of the ad description. These updates provide more space for advertisers to add a call to action or useful business details.
Source:  Google, 2019
Shoppable Ads on Google Images
According to Google, 50 percent of online shoppers say images of the product inspired them to make a purchase. As a result, Google is investing in shopping solutions across more of its properties, such as Google Images. Shopping ads on Images allow advertisers to reach shoppers looking for visual inspiration.
The new shoppable ads take it a step further by allowing advertisers to highlight multiple products available for sale within a sponsored ad. Users can scroll through images and hover over any sponsored ad with a price tag to see the items for sale, along with prices, brand names and more. Google is testing the new ad format with select retailers and plans to roll the feature out to more categories and brands in the coming months.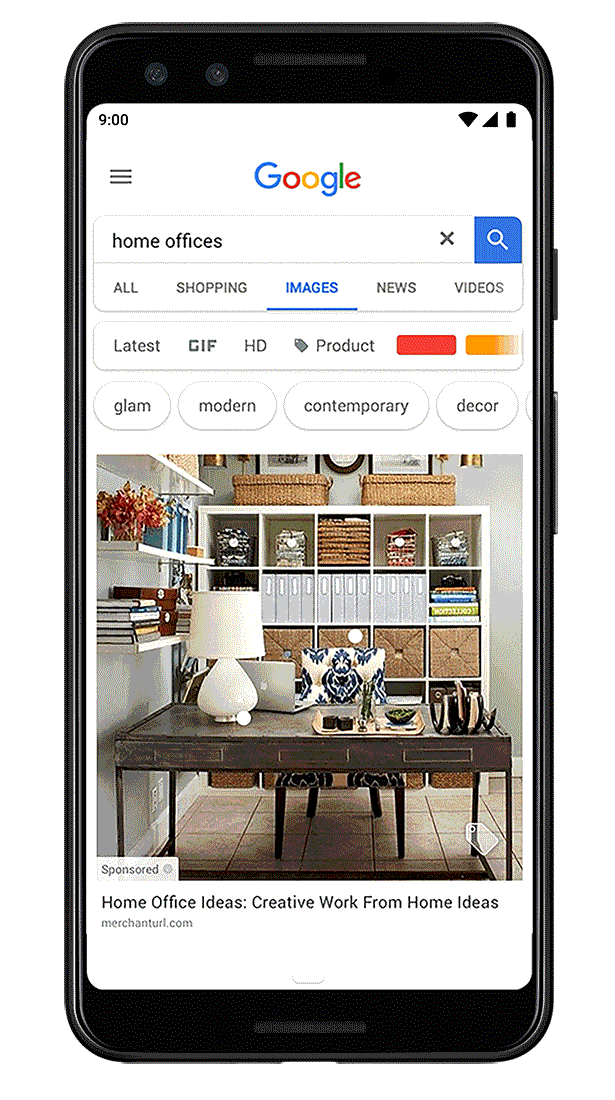 Source: Google, 2019
Revamped Test My Site tool
A mobile-friendly website is a critical component of your brand's online presence, especially since more users access the internet via mobile devices than desktop computers. Slow load times not only create a bad user experience but even just a one-second delay in page response can result in up to a 20 percent reduction in conversions.
Google recently revamped their Test My Site tool to help advertisers understand their mobile site performance, get customized fixes to improve page speed and download a complete report to share with their team. Marketers can use this tool to:
Check the mobile speed of an entire site as well as individual pages
Track speed trending month over month
Rank speed as Fast, Average or Slow
Compare your site's performance to your competitors' websites
Estimate the impact of site speed on revenue
Source: Google, 2019
Google Marketing Live Event, May 14th
Learn about Google's latest product innovations, search trends, usage changes and more at Google Marketing Live on May 14. For the first time, the preeminent Google marketing event will also live stream more than eight hours of content from the event. The innovations keynote promises "10+ new digital marketing products will be announced."
Click here to register, view agenda details and see the speaker lineup. Be sure to follow #GoogleMarketingLive to see what everyone is saying about the latest news from Google.
---
Want to learn more about what it takes to crush the search game? Contact us to learn how we can amplify your brand's presence in local search results.